Rosé: a rare pleasure
Rosé wines from New Zealand have seen an enormous growth. Rosé ranks #4 in wines exports from New Zealand. The majority of New Zealand rosés are made from Pinot Noir. You can also get unique rosé wines made from 100% Pinot Meunier. There are only two New Zealand rosés made from this grape. Rare, fruit-focused and simply delicious!
Enjoy!
---
---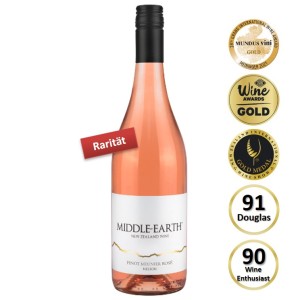 MIDDLE-EARTH Pinot Meunier Rosé 2020
20,10 CHF*
26,80 CHF pro Liter
It is always good to have a great tasting rosé in the fridge. This is a rare rosé wine made from 100% Pinot Meunier. The only NZ winery to produce rosé out of Pinot Meunier. High sunlight hours and a long growing season give wonderful fruit purity.
to article
18,70 CHF*
24,93 CHF pro Liter
This Rosé is 100% Pinot Meunier and from the winery's original Meunier block. Rarely seen as a single varietal bottling, Pinot Meunier is normally part of a trio in a sparkling Champagne blend where it is appreciated for the fruitiness and crisp detail. These attributes lending it beautifully to Rosé production.
to article
---
Rosé wine from New Zealand
The new colour is .... pink. Rosé wines are getting more and more popular, in Europe as well as in New Zealand.
Diverse, fresh, elegant. New Zealand makes a wide array of Rosé wines, from fresh and fruity to savoury and textural.
The majority of New Zealand rosé is made from Pinot Noir.
With flavours of red fruit combined in a dry wine with a crisp acidity, New Zealand Rosé is a great alternative to dry wines that you appreciate during summer or as aperitif all year long.
Only 2% of the exported New Zealand wine is rosé wine.
NZ Rosé: How is it made?
Fruit quality is paramount for Rosé. High quality grapes maximize finesse and varietal expression.
Grapes are handled as gently as possible from vineyard to winery.
The majority of New Zealand Rosé is fermented in stainless steel tanks to preserve freshness, fruit purity and aromatic intensity.
The final shade of pink relates to the grape variety as well as the length of skin contact permitted between juice and pigment-rich grape skins.
Some Rosé is made by the saignée (to bleed) method, which is when the juice is drawn off a red wine early in its fermentation. These wines can be quite rich in colour and robust in style.
Food match to NZ Rosé
NZ Rosé is a great match to a winde variety of foods:
canapés - smoked salmon blinis, fresh sashimi or goat cheese tartlets
savoury tapas,
light pasta dishes
Thai, Indian and Mediterranean-style dishes.
Salad Niçoise
many kinds of seafood, particularly salmon