Rosé: a rare pleasure
Introducing a very unique rosé wine: made from 100% Pinot Meunier.
MIDDLE-EARTH is the only winery in New Zealand to produce a rosé wine out of this grape. Enjoy!
---
---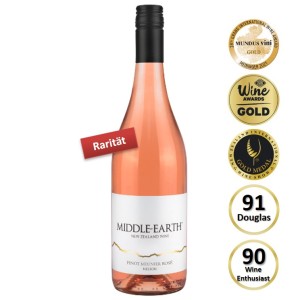 MIDDLE-EARTH Pinot Meunier Rosé 2020
18,10 CHF - 19,10 CHF*
25,46 CHF pro Liter
It is always good to have a great tasting rosé in the fridge. This is a rare rosé wine made from 100% Pinot Meunier. The only NZ winery to produce rosé out of Pinot Meunier. High sunlight hours and a long growing season give wonderful fruit purity.
to article
16,70 CHF - 17,70 CHF*
23,59 CHF pro Liter
This Rosé is 100% Pinot Meunier and from the winery's original Meunier block. Rarely seen as a single varietal bottling, Pinot Meunier is normally part of a trio in a sparkling Champagne blend where it is appreciated for the fruitiness and crisp detail. These attributes lending it beautifully to Rosé production.
to article
---
Rosé wine from New Zealand

The new colour is .... pink. Rosé wines are getting more and more popular, in Europe as well as in New Zealand. With flavours of red fruit combined in a dry wine with a crisp acidity, New Zealand Rosé is a great alternative to dry wines that you appreciate during summer or as aperitif all year long.