Neudorf Vineyards
Considered as one of the best wineries in New Zealand: Nelson pioneer Neudorf has made a name for outstanding pinot noir and chardonnay.
---
---
Neudorf Tiritiri Chardonnay 2019
28,00 CHF -6% RRP 29,90 CHF *
37,33 CHF pro Liter
A Chardonnay to be gently chilled, generously shared & enjoyed with anything that takes you back to the seaside in summer, maybe for a surf, a cast, or a wander.
to article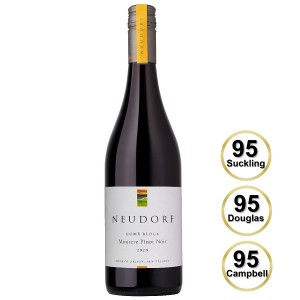 Neudorf Home Block Moutere Pinot Noir 2020
56,10 CHF - 57,30 CHF*
76,40 CHF pro Liter
One of the highly regarded Pinot Noirs from New Zealand. From one of the region's pioneers, this wine from Nelson has a reputation for elegance and ageability. Intense, complex, fresh, with rich aromas of cherry, black currant and violets.
to article
---
About Neudorf Vineyards
Judy and Tim Finn of Neudorf Vineyards were one of the pioneers for wine in New Zealand. They have successfully established themselves as one of the top producers inm Nelson and in the country.
Great wines have a basis of fruit concentration, length and sense of place – characters which can be formed only in the vineyard. The team here at Neudorf believe their primary task is to grow grapes which express the site, to take the essence of that fruit and then preserve it as wine. On the way they may fine tune the balance and complexity in a number of ways but the aim is always to allow the site to speak.
In working this close to nature there will sometimes be heartache and occasionally celebration; each year there is new promise, but always there is the excitement of discovery.