Cloudy Bay
Cloudy Bay Sauvignon Blanc is one of New Zealand's best-known wines. It has helped to build New Zealand's reputation for outstanding wines.
---
---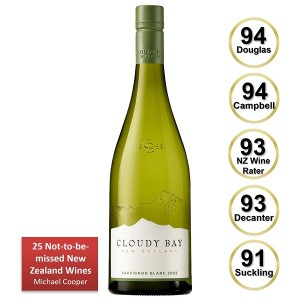 Cloudy Bay Sauvignon Blanc 2022
32,90 CHF*
43,87 CHF pro Liter
New Zealand's most internationally acclaimed wine. This benchmark wine redrew the global Sauvignon Blanc map and rearranged a few boundaries in the world wine atlas. Intense, fragrant, superbly varietal. The wine, that put New Zealand on the global wine stage.

to article
---
About Cloudy Bay
Cloudy Bay Vineyards was established in 1985 by Cape Mentelle, the Western Australian winery, which today is a part of the Moet group.
The company farms 140 hectares of vines at three carefully selected sites. Cloudy Bay Vineyards is situated in the Wairau Valley in Marlborough at the northern end of New Zealand's South Island. This unique and cool wine region enjoys a maritime climate with the longest hours of sunshine of any place in New Zealand.
Cloudy Bay vineyards
Vineyards planted in 1986 surround the winery in the Wairau Valley at Rapaura, with additional plantings at nearby Renwick and in the Brancott Valley, in the southern foothills. Five long term contract growers also work closely with Cloudy Bay. The main varieties grown are sauvignon blanc, chardonnay and pinot noir with lesser quantities of riesling and gewurztraminer. The average annual crush is 1200 tonnes.
Cloudy Bay wines
Cloudy Bay wines are exported to over 30 markets, the principal ones being Australia, United Kingdom, USA, Europe and Japan. Cloudy Bay believes that the future success of specialist wineries lies in the production of high quality wines from varieties best suited to specific regions.
At Cloudy Bay emphasis is placed on individual fruit character and the development of a recognisable estate wine style.
Don't miss out on this iconic wine brand!