Fincher & Co
Created by Master of Wine Liam Steevenson and experienced winemaker Ben Glover.

---
---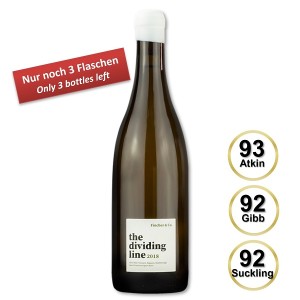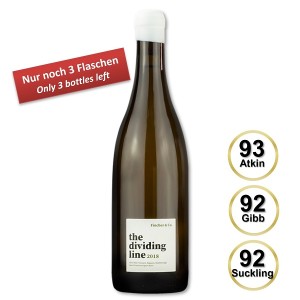 Fincher The Dividing Line Barrel Aged Sauvignon Blanc 2018
20,90 CHF -25% RRP 27,80 CHF *
27,87 CHF pro Liter
Only a few bottles left. This impressively complex and layered Sauvignon Blanc is beyond mainstream: barrel fermentation and extended lees contact in older barrels. A collaboration between Master of Wine Liam Steevenson and Winemaker Ben Glover, this is a unique offering that illustrates the quality and diversity of Marlbrorough. A reflection of single site viticulture.
to article
---
About FINCHER & CO
Created by Master of Wine, Liam Steevenson and winemaker Ben Glover.
From the beginning, this brand has been built around the importance of finding exceptional vineyards in Marlborough and central Otago that highlight the intrinsic qualities and diverse nature of Sauvignon Blanc and Pinot Noir.
Patience in the vineyard is echoed inside the cellar, resulting in wines that reflect place rather than pure fruit character. FINCHER & CO. is an artisanal reflection of site. It showcases the brilliance of New Zealand winemaking and ensures that the essence of place and people is reflected in the finished wine.
A reflection of the ambitions of wine trade friends, winemaker Ben Glover and Master of Wine, Liam Steevenson. Deliberately brave in its approach, the two aim both to reflect the terroir of the Southern Valleys, but also stylistically excite and challenge the wine lover.
The name FINCHER is a family name, and the middle name of all of Liam's children.
The people behind the Fincher wines
Liam Steevenson became the youngest Master of Wine in the World in 2004 and one of only a handful of people to pass the exam first time. He has set up and founded one of the UK's leading independent wine merchants, been a senior wine buyer for Waitrose supermarket and in 2017 was nominated as being one of the top 4 highest achievers in the international wine industry. Liam is a winemaker and has wine projects in France, Spain, New Zealand and India.
Ben Glover is one of New Zealand's most respected winemakers with over 20yrs experience his soft touch and the subtle expression in the wines is what stands this man and his wines apart. He has been the head winemaker for Mud House, Wither Hills and his family winery Zephyr.